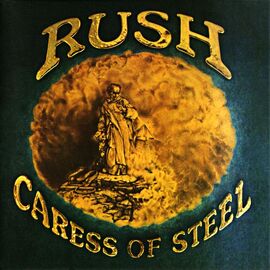 Caress of Steel was RUSH's basic hit and miss album. It had complete commercial failure, and very bad sales. Their managers urged them to record a more radio friendly album next time around, but being the spectacularly different group they are, they blantely disobeyed and recorded the 20 minute epic song called 2112, which was their first mainstream success.
Track ListingEdit
Bastille Day
I Think I'm Going Bald
Lakeside Park
The Necromancer ( l. Into the Darkness/ ll. Under the Shadow/ lll. Return of the Prince)
The Fountain Of Lamneth ( l. In the Valley/ ll. Didacts and Narpets/ lll. No One at The Bridge/ lV. Panacea/ V. Bacchus Plateua/ Vl. The Fountain)
On a Side Note....Edit
Once the band had realized what a failure the album was, they renamed the supporting tour the, "Down the Tubes Tour".
It is the only RUSH album to not get a gold certification in the U.S. until 1993, almost two decades later.
It is one of the few albums by RUSH that didn't reach platinum certification in the U.S.
Geddy Lee made a comment in a RUSH: Beyond The Lighted Stage, he said he thought his bandmates Alex and Neil and he were "pretty high" during the making of Caress of Steel
The album LP was supposed to be a silver color to represent the Steel part of the album name, but there was a printing error and it was printed in a bronze color instead.
This was the second printing error for an album by the band. (See RUSH album notes for more details)
Ad blocker interference detected!
Wikia is a free-to-use site that makes money from advertising. We have a modified experience for viewers using ad blockers

Wikia is not accessible if you've made further modifications. Remove the custom ad blocker rule(s) and the page will load as expected.