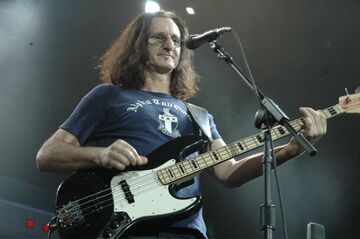 Geddy Lee Weinrib, (born Gary Lee Weinrib; July 29th 1953) better known as Geddy Lee, (among the band he is known as "Dirk".) is the lead singer of the hit Canadian progressive rock band, RUSH. He joined what would become RUSH in Sptember of 1968, by the request of his childhood friend, Alex Lifeson. He replaced frontman, Jeff Jones, after he quit the band.
Early Life
Edit
Geddy was born in Willodale, Ontario into a Jewish family upbringing. Being one of the few Jewish families in his neighborhood, He stated in RUSH: Beyond the Lighted Stage, that "We constantly lived in terror of being beaten up," and that it was "An exciting time". He innitialy started with a six stringed guitar, but switched to bass after being asked to join Lifeson's band.
He met Lifeson in grade 9, and stated that, though they were into the same type of music, they bonded more because of their goofiness. Alex asked him to join the band because Jones had canceled the night of their fist gig. After Jones quit the band entirley, Geddy was asked to join the band permanently.
Breakthrough
Edit
The breakthrough came in 1971 when the drinking age in Ontario was lowered to 18. That was at the time that the group had pretty much turned 18, and they were able to play bars and pubs then. The highschool dances that they played at were not very fitting fo their type of music. A listening crowd wants a softer type of music, while a drinking crowd wants something heavier, so thats where the initial breakthrough in Canada came.
"RUSH" and Neil Peart
Edit
Their manager Ray Daniels tried extremley hard to get them a record deal in Canada, but he couldn't. They sent a copy of the record to WMMS in Cleaveland. The song "Working Man was played, and phones lit up instantly. At first the album was thought to be a Led Zepplin album. (because of the similarity in the voice range in Geddy and Robert Plant.) Once everyone had heard of it, a whole cult following thing had started. Then it was given to Mercury Records, and the band was signed within 8 hours of them getting the album. Rutsey wasn't comfortable with the whole album and fame they were getting and co-manager Vic Wilson had spoke to the band and said that he couldn't go on the tour due to health problems. So they had to find a drummer in less than a month.They met Neil and he was hired for the job of the drummer of RUSH in the summer of 1974. ( see Fifth Order of Angels for the music of that tour.)
Personal Life
Edit
Geddy is an avid wine collector. It cannot be verified at this time, however, the extent to which he may or may not enjoy smoking doobies.