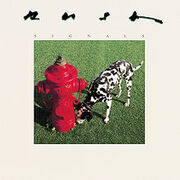 Signals is RUSH'S 9th studio and continued their use of electronic devices in their music. Things like sequencers, keyboards, synthesizers, and the electric violin. The song length and the lyrical compression were also reduced in this album. It was certified platinum by the R.I.A.A the same year it was released. The period of time known as, "The Synthesizer Period", was very electronic and super progressive. The leading track "Subdivisions", featured Lee's synthesizer's sound as more of a showcase, not an add-on like it used to be in previous albums (excluding 1977's A Farewell to Kings' Xanadu, which featured lots, and lots of keyboard and electronics)
Track ListingEdit
Subdivisions
The Analog Kid
Chemistry
Digital Man
The Weapon (Part ll of "Fear")
New World Man
Losing lt
Countdown
The lyrics in the final song Countdown, talk about the launch of the Space Shuttle Columbia, a launch that the band had watched together.
This was the last album recorded with their producer Terry Brown.
The lyrics for "Chemistry" were written by all three members of the band. This is the last time, to date, that Lee or Lifeson contributed with any lyrics on a RUSH album.
The upcoming (and very highly anticipated) Clockwork Angels tour is said to be playing Signals in it's entirety because of the 30th aniversery of the initial release of the album.
Ad blocker interference detected!
Wikia is a free-to-use site that makes money from advertising. We have a modified experience for viewers using ad blockers

Wikia is not accessible if you've made further modifications. Remove the custom ad blocker rule(s) and the page will load as expected.